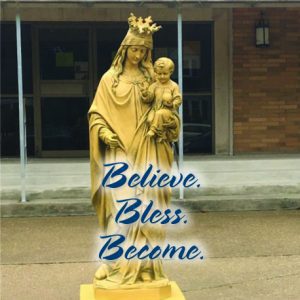 I think you would agree that the coronavirus pandemic has affected us in ways we could never have imagined, not the least of which has been a radical departure from how we typically engage in our life of Faith.  While we have had to find different ways to stay close to Christ and to one another, one thing has not changed and never will: Christ is always with us.  He never abandons us.
As I look back on the past 4 years of my tenure as your pastor, I consider how blessed I am to be at Saint Mary's of the Lake.  During the past year in particular, an especially challenging time, our parish continued to come together to serve those within our community.  We found creative ways to carry out many of our ministries, be it through regular email communications, video updates, continued support of local organizations such as the Culver Food Pantry and Community Christmas Basket program, all while not being able to gather together for Mass much of the time.  I am continually humbled by the the generosity of the parish community of Saint Mary's of the Lake, and I thank you!
The reality, though, is that the emptiness of our church in recent months has also meant an emptiness of our collection baskets.  Many of you have given generously via electronic Bill Pay or by sending contributions directly to the parish, and I am most grateful.  Like most Catholic parishes, we rely greatly on the offertory collection to fulfill the Church's mission of spreading the Gospel and caring for those in need.  We also have the reality, like many organizations, of paying bills, maintaining infrastructure, and running essential programs.  Without your generosity, it would be impossible for us to fulfill our mission, which is needed now more than ever. 
With all of this in mind, I invite you to join our parish community by responding to our "Believe. Bless. Become." Program.  I ask you to prayerfully consider how you and your family can help Saint Mary's of the Lake by financially supporting our ministries, our ongoing growth, furthering our mission, and reinforcing our future. An electronic commitment card can be completed below:
Thank you for your generosity, prayers, and commitment to Saint Mary's of the Lake!